Season 3: Doc World | Season 3
DOC WORLD, an international documentary series showcasing stories that dive deep into the heart of an issue, gives viewers a chance to understand the lives and concerns of people beyond U.S. borders. In the Fall of 2018, season three will premiere with three films that follow refugees fleeing their homes in search of asylum. Hosted by Andia Winslow.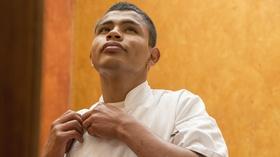 A teen finds the strength to overcome his sense of abandonment and forgive his father.